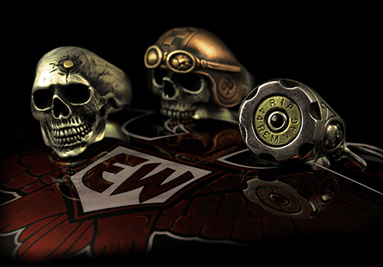 EISENWERK-forever
HUMAN by NATURE - REBEL by CHOICE


In this time of mass production, in which manufacturing processes are automated or simply cheaply outsourced, we at EISENWERK-forever as a goldsmith design and craft our jewelry the traditional way by hand in Germany. Why don't we just adapt? Because we are Human by nature - Rebel by Choice. We customize our bikes but not our attitude. For us as a craftsman and artist Jewelry is not a mass product.

We do not follow any trends, do not bow to any social conventions, and political correctness still means respect for us. We are individualists, because "Style is what you create and not what you copy"!

In each of our jewelry is our passion for the idea, the details, the materials and good old-fashioned craftsmanship. This is the only way to offer you the unique and distinctive jewelry that meets our own quality requirements.
At EISENWERK-forever it's not about lifestyle but about personal style and attitude. Our jewelry is designed for jewelry enthusiasts who appreciate individuality, quality, value and craftsmanship. For those who want to stick out from the crowd and want to have something special and personal. Since 2011, EISENWERK-forever has convinced many rebels with undoubtedly impressive designs and jewelry that is different and better than the normal mainstream stuff. It always makes us proud when we meet people who tell us years after their purchase that our jewelry has become part of their identity. This is what is special and our drive.

Designs
Biker Jewelry, Rocker Jewelry or Skull Jewelry today are buzzwords, which we also did not go by. Skull Jewelry has now become a lifestyle accessory. That is why it is often produced as cheap bulk goods and the same ring, the same pendant is sold hundreds of thousands in x-different shops on the Internet. The designs of our rings and pendants are not "trendy" and we are also not up to having the biggest, the heaviest or the fattest skull ring in the program. We want to give our jewelry a meaning. It is mainly the old stories, myths, traditions and symbols of the biker and rocker scene, which inspire us to our designs and which are now increasingly forgotten. Say Hello to the new world.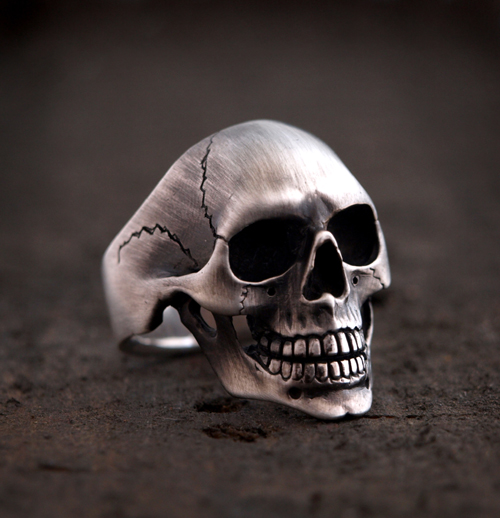 The skull is probably the most widespread and well-known symbol, symbolizing the struggle against conventions as a classic motif. Therefore it is not surprising that we like to use it at EISENWERK-forever. Finally, the first EISENWERK-forever ring was a skull. (Omega)

No matter whether ring, pendant or ear plug, a skull must look like a skull and not like a comic ... unless it is wanted. That is why we work out the anatomical detail of a human skull precisely in all our skull jewelry. With the utmost care, precision, passion and attention to detail. In order to make the details, subtleties and peculiarities of the skull even more effective, our skulls are usually matt and not polished. This is certainly because "BlingBling" is not really our thing. We like to improve the look with bronze or .750 gold and sometimes also with stones. For those who prefer it shiny, we also offer polished versions.

Machines make products but hands make art.
We design and craft our jewelry in an old fashion. A millennium old technology without the use of computers, 3D programs or 3D printers. Our designs and ideas crop up in your head and are then hand carved in wax. With every minute detail, we breathe life into the model. A machine cannot get this.
Only when everything is right and meets our requirements, the hand-carved wax model goes into the cast. Rings and pendants from EISENWERK-forever are solid .935 silver. The number of grams is irrelevant to us personally because we do not sell silver but handmade, solid silver jewelry for bikers, rockers and rebels.
Even if it has become fashionable to incorporate the proof of origin into the basic design, every part of our collection is stamped by hand. Our stamp can only be seen with the magnifying glass, but so does a goldsmith! We love silver and like to let the finest details of every piece of jewelry come into effect through its precised blackening and professional handling.
Everyone who holds our jewelry in his hands feels the difference between a lifeless mass-produced consumer article and our rings and pendants. So if you are looking for high-quality, handmade skull jewelry, biker jewelry or rocker jewelry, look no further.
HUMAN by NATURE - REBEL by CHOICE
What about you?